In the early 1980's as a single Mom, my adolescent daughter and I lived in P------d , Oregon, U.S.A. and loved to take day trips to the Oregon Coast. On one such trip, I purchased 2 pieces of art work on lay-away and arranged to pick them up 2 weeks later. On the appointed day, we took another journey to the coastal town and spent a lovely day enjoying the sand, surf and salt air, as well as completing the purchase of the art work.

The coastal highway from P-------d to C-------n B----h at that time was two lanes wide and wound through beautiful old evergreen forests, but became somewhat desolate and a little scary for two females alone after dark. But we had our red Doberman, Genna, with us, as was often my custom when travelling without male companionship.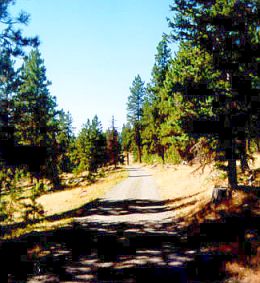 The return trip should have taken 2 hours, but partly from the sun and salt air, I became extremely drowsy and found it necessary to stop three times at turnouts to doze before proceeding. This added hazard of being less than alert added to our apprehension, as darkness descended. From past trips, I remembered an old frame building that housed a lunch counter and rock shop where my former husband and I had eaten years before and I promised my child we would stop for a bite to eat and coffee for me when we found it.

Sure enough, upon rounding a bend we came upon the somewhat dilapidated and weathered building and -----thank God-----the lights were on and the place was open for business. We entered and passed through the dusty rock shop into the lunchroom where we were greeted by the friendly elderly woman with dyed red hair whom I remembered from the previous visit. She greeted us warmly (we were the only customers) and, at my urgent request, quickly served me a cup of coffee. I ordered a sandwich: my daughter at first demurred, but the proproprietess convinced her to eat a grilled cheese sandwich and glass of milk. We chatted pleasantly while we ate, paid, left the restaurant, walked the dog and proceeded homeward: I was now adequately awake to drive the remaining 60 min. without incident.

About a month later, we again took a day-trip to the ocean on the same highway and decided to stop on the way home to express our gratitude to the old woman. Imagine our shock when we found the place burned and deserted! Not only that, but it gave every appearance of having been that way for a number of years! I took photos for which I am still searching and will send if I locate them. We went home,still puzzling over what had ocurred: we had not been halllucinating. The food was real, the coffee refreshing, the results beneficial....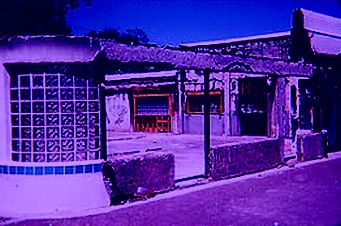 About five years later, driving past the site, I summoned my courage (being at the time alone without a dog) and drove down a winding driveway which led down the side of the mountain between the dilapidated ruins and the highway. At the bottom, I found a run-down home occupied by a mountain man and his wife and asked it he had any information about the lunchroom. He said it had belonged to his mother: she had become senile, he said and had been placed in a nursing home. Subsequently her business had burned down. He could not (or would not!) give me dates when this might have happened.

To this day, I cannot help but wonder, did my daughter and I make a stop in the Twilight Zone?