---
A baffling story from a new correspondent!
---
Greetings guys......
I'd like to tell you about a weird experience I had about three years ago. It happened at an old, derelict and rambling school some 3 - 4 miles from the village of Alton (famous for its Towers!)
On this partiucular sunny day, I was sitting on my motorcycle in the school's carpark (an area so vast it even boasts a helipad!) enjoying a cigarette and quite alone. After glancing down at my reflection in the top of the bike's petrol tank for no more than a few seconds, I looked up again to see standing not 20 yards ahead, a young woman and a brown pony. She seemed as perturbed as I, and bent down to the pony's left front hoof, staring at me from under her eyebrows as if she couldn't believe what she was seeing.....
I had no wish to alarm her further and so donned my helmet and rode away.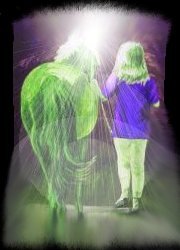 The oddness of it only struck me later: to reach the spot they occupied from any cover at the edge of the carpark, the woman and horse would had to have covered a distance of 30 - 40 yards in the time I was looking downwards (as I said, no more than a few seconds) Even if this were possible, I'd heard absolutely no noise: certainly not that of a horse's hooves on a hard,tarmac surface...
But the strangest thing of all was this: this woman could SEE me, as would a living person. Had she appeared in my part of time/space...or had I in hers...? This was not the only strange experience I had in this particular place but that's another story!!!