It is well-known among my friends - and even to my many casual acquaintances - that I possess in some degree the power to interpret or explain paranormal phenomena.
Unsurprisingly, therefore, I am not infrequently invited to people's houses to investigate hauntings or similar outré occurences.

I once had a close friend who was plagued, as she saw it, by dimly-seen shadows in corners and on the stairs, by misplaced objects that turned up in bizarre locations and by doors opening by themselves. All, this, to her and her husband's consternation, in a property they had purchased from the builders some ten years before. Knowing of my interest in these matters, she asked me to visit her house and investigate this unwelcome presence: I readily agreed. As soon as I entered the front door and walked across the hall into the lounge, I was aware of a somewhat uncomfortable feeling. I was definitely not wanted by 'someone'!
My host asked if I wanted coffee: on my agreement, she went off to the small kitchen to boil the kettle. As soon as she left the room, an elderly woman abruptly materialised by the lounge door.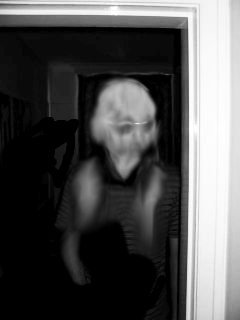 Needless to say, I was somewhat startled by this, but regaining my equanimity I attempted to make contact. The old lady soon identified herself as my friend's Grandmother, who had passed away some months previously. (I should say, these communications are, in my experience, almost always some form of telepathy: the thoughts just 'form' in my mind, and I reply in a similar fashion...)
I 'asked' the spirit why she visited her Grand-daughter so frequently: the reply almost caused me to laugh at loud! She enjoyed the young woman's virtuoso piano playing! At the time, moreover, my friend was an active member of an operatic society and was also learning to play the guitar!
The return of my host with the coffee shattered the connection, and the elderly relative departed. Naturally she was a little taken aback when I related what had occurred, but, after a while, seemed to reconcile herself to the fact that Granny would continue to visit as long as there was music in the house!
Time passed: my friend could no longer stand the unexpected visits, and gave up the piano, the operatic society and the guitar! Furthermore, she and her family moved some distance away: in the way of friendship, we lost touch for some years....

Out of the blue, my wife and I received a wholly unexpected dinner invitation to the 'new' house. After the meal, my erstwhile friend suggested a few songs at the piano: this, she admitted, she hadn't played for two years! She passed her dusty guitar to me, and sat at the piano. Hardly had the first chords resonated through the house when there, at the door, was Granny!