So it all started when I was five: now, 20 years later, nothing has changed! My family still has to live with the paranormal.....

I now live with my husband and two children in a very nice small house not more then 5 miles from where I lived with my parents, brother and sister. I have lived in this house now for more then two and a half years and it seemed ghost or spirit free until about 3 months ago when things started to happen. As you may have read from my previous encounters, we always seem to experience the paranormal around our family, and yes before you start to wonder about the authenticity of these stories, they are real.
The first encounter was investigated by the police authorities and was snatched up by a national newspaper. After this it has just continued. My mother is or was very ill and was taken to a local hospital about three years ago. When they could not help her, she was then moved to a hospital towards the south east of England. Unfortunately this was no good for my mother either, so then she was moved to another hospital up in Liverpool. After my mother left there house my father told me that the ghostly movements, sightings and sounds was slowly fading. He said they were happy, that they seemed to have settled. This I could not understand but left it at that. In June this year my father declared his love for my mother's best friend, moved in with her and asked for a divorce from my mother, still stuck in hospital and still very ill.
Now as I mentioned at the beginning of this story, I have been experiencing strange things in my house for the past few months: not just me, but also my husband. We first started seeing a figure walking up and down the stairs in the hallway of the house. From where we sit in our front room you can see onto the stairs. We would be watching TV and see a figure out of the corners of our eyes. This could have been our imagination and as a sceptic, I like to see things right in front of me rather then start to think silly things were happening in my house. Stuart, my husband went upstairs to get the dirty clothes from the landing. He told me that as he was leaning over to reach the clothes he was startled by the sight of legs walking quickly past him. When he came down stairs he was white and couldn't believe what he thought he had seen. Anxious to believe him I walked upstairs to check on the children, to see if it could have been either them, but they were sound asleep in their beds. Our floor boards creak so if one of them had of been on the landing it would've made a noise.
After that more things started to happen. I was singing to myself in my front room and a box that my little girl had made me at school fell from the shelf and all of its contents came out. Again, this could have been anything but this wasn't the first time that this happened. I had just come home from work and I started the fill the kettle up for a coffee when a bottle from the top kitchen cupboard fell and hit the dirty plates. As I went to see what had fallen, I noticed that the cupboard door was open. Now in our house we always make a point of shutting the doors as we have cats. I had not even got myself a cup and the door was open.
About a week later I was brushing my teeth in the upstairs bathroom and a jug I use to bath the cats fell and hit the toilet seat with great force. I tried to imitate it by dropping the plastic jug again but could not achieve the loudness of the sound it had made on its own. Also that week I had my best friend over for a coffee on evening. Meg was sitting by my fish tank and I was over by the computer at the other end of the room, reading my e-mails when my phone hit the floor. I was near Meg but I know she would not have done as she hates anything to do with ghosts. So far there had been lots of things falling and not enough evidence to show me there was something in my house until Boxing Day morning.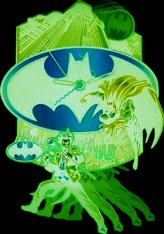 For Christmas this year, as a stocking filler we bought my 4 year old son a batman clock with a batman style pendulum from Woolworths. Half way through the day I knocked it off the living room table and it hit the floor. The pendulum didn't work after that. I felt so bad for my son as he had really loved that clock. My husband took it apart and tried everything he could to get this thing to work. The clock part worked fine. Stuart took it up to our bedroom and put it on his bedside table. Feeling really bad for my son I sat there for a while trying to get it to work, to click like it had before I broke it, but nothing. Every time I tried to get it to move it got stuck one side so I gave up. Stuart and I went to bed that night so tired and so ready for sleep. We must have been tired as I don't remember my head hitting the pillow. I was woken up by a clicking noise at about 3am and without thinking told Stuart to put the bloody clock away as the ticking was really loud. He woke with the noise too and put his finger on the ticking pendulum to stop it from moving as this had worked when the clock had been working that day. He took his finger from it and it continued to move. Now we were scared as the clock was well and truly broken, so he put the clock away in one of his bedside drawers. I'm not kidding when I say I wanted to leave the house when I realized what was going on, but Stuart cuddled up to me and we went back to sleep. The next day I went upstairs to see if it was working again but when I pulled the clock out of the drawer it was that same as it had been when I tried to fix it. It just didn't work. A few days ago Stuart went upstairs to fetch some dirty washing from our room and as he went in, before he turned on the light he heard the ticking noise again, and he tells me the pendulum was ticking. I then went upstairs to see for myself but as I entered the room it was no longer ticking. I don't know what's going on in my house, do you? I phoned my mum to ask her what she thought and she said as my dad has moved out of the house that they lived in, it has moved on to me. So does this mean it will get livelier? I don't know, but what I do know is, what happened in my parents' house was not something anyone should have to live with. I really hope it doesn't get as bad as that.