You may recall that, as well as being a lecturer, I run a company importing and exporting meteorites, tektites and other space memorabilia. Until a few years ago, I also worked in mainstream schools, with what are euphemistically refered to as 'challenging children'!

Much of my business is conducted over the 'phone or internet, but most weekends find me hundreds of kilometres from home at a collectors' fair or airshow.....

Several times last year my wife and I set up our marquee at Duxford Airshow, in Cambridgeshire. Not only do we meet many new clients, we also both enjoy the sights and sounds of the vintage aircraft.
Halfway through the day, a singular looking couple in their mid-fifties came up to our stand. There was a curious purposefulness in the man's approach: he stopped in front of me and scrutinised my face closely in a somewhat disturbing fashion.



After a few seconds, he spoke: "Your name is David, isn't it?" I assented. "I had to come here to day to bring you something!" he continued. As he spoke, I examined my unexpected visitor. He had wavy, shoulder-length grey hair and a neatly-trimmed beard. His clothes had that 'real ale, Morris dancing and folk music' look about them. I had certainly never met the gentleman nor his wife before!
From his pocket, the stranger extracted a small object. He took my right hand in his left and deposited this into my palm: it was a smooth, brownish stone.....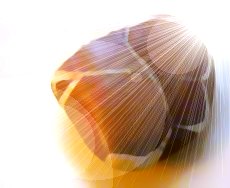 "Do you know what this is? It's a septarian nodule. It has power to help you in your work. I know you need all your resources at the moment: this will augment your persuasive talents. I found it on a beach in Kent and have been carrying it in my pocket until I had a chance to pass it on to you."

To say I was surprised would be an understatement! The next five minutes was a revelation: it became obvious that this amazing savant knew virtually everything about my life, and yet I never felt the least bit threatened.....

Time went by. The stone was my constant 'companion': it came into every difficult class for three months and really did seem to help me find the extra focus and lucidity of speech it takes to maintain discipline in today's schools. But during a late holiday in Devon I lost the stone: it fell from my pocket during a walk along the beach at Exmouth. No amount of searching turned up my talisman: it seemed gone for good, and I eventually forgot about it during the exhausting days of a new contract at a somewhat 'challenging' school.
Then a few days ago, as I was invigilating an SAT exam, I distinctly felt something drop with a 'clink' into the pocket of the brand-new pair of trousers I was wearing. Emptying the contents of the pocket into my hand, I found the nodule nestling in my palm! It had somehow found its way back across the entire breadth of the country!